Contract Electronic Assembly Manufacturer
Denis Ferranti Electronics is a contract electronics manufacturer, specialising in small to medium batch PCB assembly, electronic assembly services and  electromechanical assembly services.
We have particular expertise in providing electronic manufacturing services for customers who have a high number of product variants.
Our markets for PCB assembly services include such sectors as Security & Surveillance; Secure Data Transfer and Power Monitoring, where applications require a tightly controlled, traceable manufacturing process.
Many of the PCB assemblies and electronic products we produce are designed for "high reliability" applications where they are subject to hostile environments, abuse and potential attack.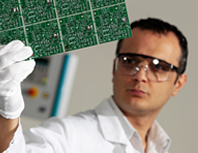 We offer a full range of surface mount (SMT) assembly services and plated through hole (PTH) PCB assembly services. We also offer with our electronic manufacturing services a range of support services which, we believe, enables us to offer you a comprehensive electronic manufacturing partnership.

We hope that your visit to us today will prove informative and help to convince you that Denis Ferranti Electronics should be your supplier of choice for PCB assembly and Electronic Manufacturing Services. 

Follow the links at the foot of the page to other Denis Ferranti Group sites to see the full extent of the subcontract engineering and electronic manufacturing services our Group can offer.