WHY ARE WE DIFFERENT?
The philosophy of Denis Ferranti Electronics is to provide our customers with long lasting, cost effective, electronic manufacturing solutions. This builds the basic manufacturing process into a complete service and support package which includes:
Rapid Turn-around – DFE have invested in the latest high-speed equipment, providing flexible and fast turn-around production for small to medium batches and prototype PCB assembly.
Cost Optimisation – Our sourcing team works globally to deliver the optimal cost solution for our customers. In addition to our UK based manufacturing facility we have our own procurement office in Shanghai. This enables us to source the most cost effective electronic components and PCB assemblies for our customers.
Flexible Scheduling – DFE recognise that customers may have a high number of product variants which can make scheduling production difficult. We are experienced in proactively managing production, stock holdings and deliveries on behalf of customers to ensure your supply chain runs smoothly.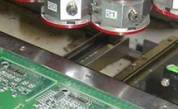 Life Cycle Support – DFE will support your product throughout its life in key areas such as Revision Management; Obsolescence Planning; Legacy Product Management and Retrofit Systems Integration and Testing.
Technical Capability – Our team of electronic engineers is highly experienced in a variety of markets, products and processes.
Group Resources – As part of the Denis Ferranti Group we have access to a wide range of manufacturing processes which we can call upon to support your product.
A true manufacturing partnership
Follow the links at the foot of the page to other Denis Ferranti Group sites to see the full extent of the subcontract engineering and electronic manufacturing services we offer.